C.I.No.: -

CAS No.: -

Dyeing Depth G/L: 25

Dyeing Method: in

Leuco Color: Olive

Trademark: emperor

Transport Package: Bag

Origin: China

HS Code: 3204159000

Product Name:Olive MW(Vat Green 13)

C.I. No.: --

CAS No.: 57456-28-7

Molecular Formula: C45H21ClN2O5

Molecular Weight: 705.11Â Â Â Â Â Â Â Â Â Â Â Â Â Â Â Â Â Â Â Â 

 

Shade:Â Olive

 

Relative name:Cibanon Olive B2G-01;Vat Olive MW;Vat Green MW;

                                                      

Vat Green 13 Physical Properties and light fastness.
                             Vat Green 13
Dyeing depth g/L
25
Dyeing method
IN
Leuco color
Olive
Leveling property
-
Dead cotton
-
Light (Xenon test 1/12)
6
Light (Xenon test 1/1)
7-8
Light (Xenon test 2/1)
7-8
Properties:

SAP green powder. In concentrated sulfuric acid to blue light grey; In Nitrobenzene for green. Dye alkaline reduction leuco for olive green, Acid reduction leuco for yellow olive green.

 

Applications:

Mainly used in cotton fiber dyeing, levelness is better, to dead cotton covering power extremely good. After dyeing the oxidation except hypochlorous outside, the rest can be used both, soap after washing a little blue. In addition to can be used in the jig dyeing and disseminated outside, is more suitable for suspension milk dyed. This article generally not used for printing, and can be used for silk, stick/cotton blended fabric dyeing.

 

Package, 25KG/DRUM, CARTON BOX, BAG

 

Note:Â The data contained here are based on our current knowledge and experience. It is the responsibility of user to test our products before the final application.

Pp Short Fiber Nonwoven Geotextile

PP nonwoven Geotextile is a non-woven product manufactured by combinining synthetic short yarns mechanically by using needling method. Non-Woven Geotextile has no woof and warp. Strength is achieved by combining yarns and applying thermal process. Geotextile felt is a permeable textile product which can be used with basic elements or with any material related with soil, running ground or geotechnic engineering.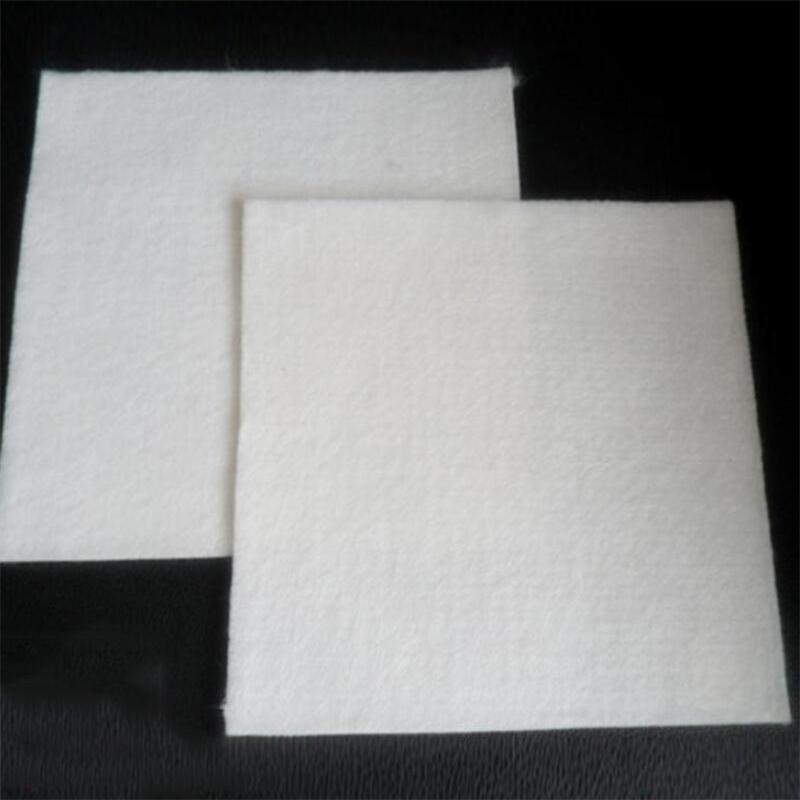 Features:

1.Engineered to provide high strength and high elongation at break to ensure excellent resistance to damage during construction
2.Manufactured from high tenacity UV stabilised virgin polypropylene or polyester fibers which have been heavily drawn to ensure excellent long term durability in all soil types.
3.Manufactured using a randomly orientated web to provide completely isotropic properties,ensuring that high strength is not limited to a single direction.
4.Excellent uniformity with high permeability and low pore size for soil filtration.
5.Supplied to a maximum width of 8.0 meters,ensuring minimum waste over large construction areas.
6.100% polypropylene or polyester staple fibers ,needle punched and random network formation.
7.UV and rot resistant and biological degradation resistant.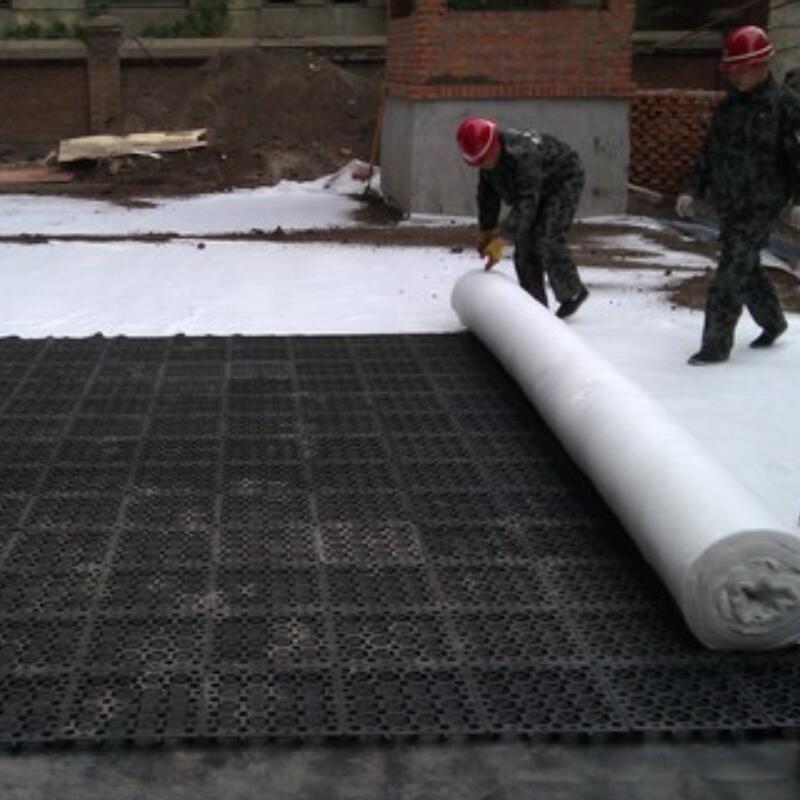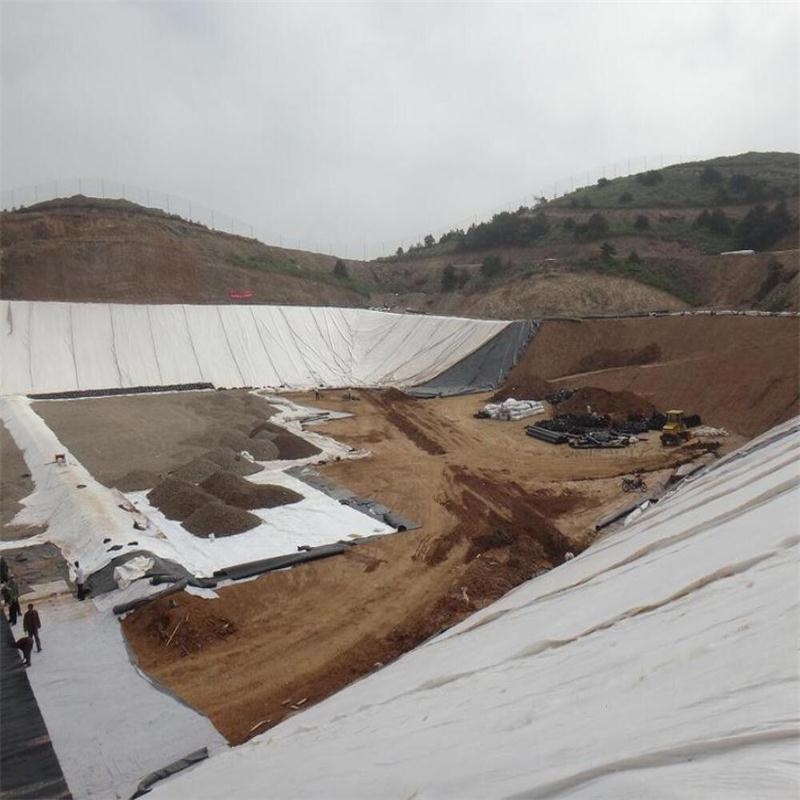 Technical data: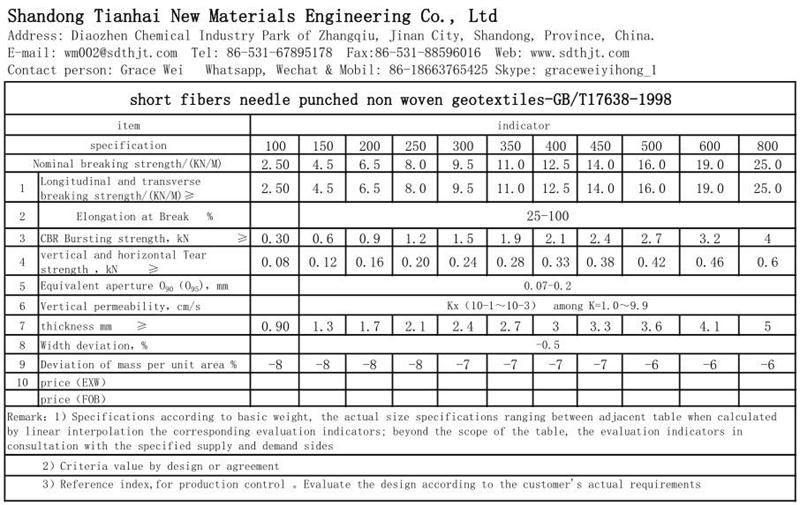 Pp Short Fiber Nonwoven Geotextile,Polypropylene Nonwoven Geotextile,Nonwoven Pp Geotextile,Non Woven Geotextile

Shandong Tianhai New Materials Engineering Co., Ltd , https://www.chinatinhy.com