Reporter: Shaanxi Hanjiang Machine Tool Co., Ltd. (referred to as Hanji Company) is an important production base of precision machine tools in China. It is understood that most companies in China's rolling functional parts industry have Hanji's thread grinding machines. Please introduc
.......
In recent years, China's auto parts industry has maintained a good momentum of development. Last year, China's automobile production was 8.88 million, and this year it is expected to exceed 10 million. The great development of the automotive industry has also driven the developme.......
At present, in China's machinery manufacturing plants, the cutting, grooving and thread turning tools of the parts are basically made of welded carbide turning tools. Due to these tools, the cutter head has a small size, low strength, and is difficult to manufacture. The geometric angle of
.......
After years of mechanical processing, our company has summarized some experiences on the design of milling face fixtures. (1) A support plane is formed by three support points to support the workpiece, so that the flatness deviation of the machined surface due to the deviation of the flatness
.......
With a simple set of tools, the elongated step workpiece can be ground on a cylindrical grinding machine (Fig. 1). This tool is shown in Figure 2. The V-shaped block in the tooling is placed at the center of the workpiece's overhanging part, leaving a hanging length of 8 mm for measuring a
.......
Summary

The loosening of threaded joints has been plaguing engineering and academia. In principle, the reasons for the looseness of the threaded connection are analyzed. Some commonly used anti-loose methods are introduced, and several new ant.......

The strain gauge probe is testing the injection mold of a computer mouse. This strain gauge testing technique overcomes the disadvantage of measuring unevenness with conventional contact-trigger probes because parts with complex geometries need to be approached from all directions. This.......
Third, AMS2750D "high temperature measurement" specification of the requirements and requirements for temperature sensor certification
1. Regulations and requirements
The temperature sensor should have a certificate (as shown in Figure 1). The cert.......

Linear encoder/angle encoder for direct drive
The grating reticle of the linear encoder or the angle encoder is lithographically engraved on the glass or steel strip substrate. The scribe line pitch is extremely small and the edges are clear and uniform. With no.......
"Mechanical Parts Design Manual" This manual includes commonly used materials, data, general standards and mechanical basic standards and engineering commonly used materials in mechanical parts design, including thread, shaft, pin, welding, bonding, riveting; shaft, bearing, joint Sh
.......
When machining a workpiece with a cone, it is often tested with a taper gauge using a polyester color method. When machining a workpiece with a short cone on a lathe, especially in single or small batch production, the method of turning the small carriage angle for manual feed turning is gener
.......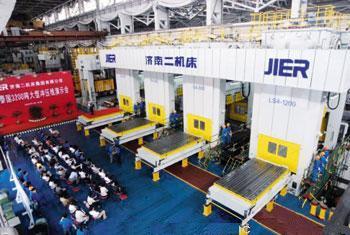 Figure 1 3200t large press line produced by Jinan Second Machine Tool Group
2. Servo drive
The new servo .......